Shopping cart
The cart is empty
Replacement remote control for HUMAX RM-L02 (03202-00212) | 22.73 € + VAT
The original remote control is not available.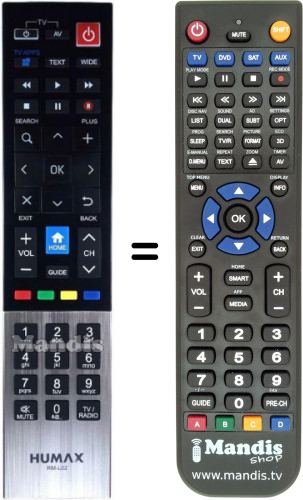 Click to enlarge
Replacement remote control for RM-L02 (03202-00212)
Reference:
RM-L02 (03202-00212)
Shipping to United States: 12.50 € (Standard shipping (no tracking), 2 - 3 weeks)
Upon purchasing the new remote control, you will receive a document indicating the correspondence between the buttons of the original remote and those of the replacement remote. This will help you easily use the same functions on the new remote. We want to ensure that you can use the replacement remote without complications by providing you with the necessary information.
Description
Remote control to replace the original RM-L02 (03202-00212) and all its functions. It is not a universal remote but a substitute for the original. You will receive the remote ready to use: you only need to install the batteries. It is not necessary to program it. We offer you our full guarantee that the remote will fulfil all the functions of the original.
Brand
Brand:
Humax

The remote control is carefully shipped protected in a special packaging along with the necessary batteries (if requested). The shipment is fast and secure, ensuring that it arrives at your hands within the indicated delivery time. Additionally, you will receive the convenience of having your invoice sent directly to your email. Your shopping experience will be impeccable from the very beginning!
Some of the models that use this remote are
Documents
Replacement remote control

It uses 2 batteries of the type AAA
1.5V alcaline batteries AAA LR03, used in a great majority of remote controls.
Questions on remote Humax RM-L02 (03202-00212)
Payment methods
We have several possible methods of payment
Read more
Shipping and delivery
When your order is completed successfully, we will send you the products as soon as possible
Read more